AquaDropp FAQs
What types of plants does this work for?
Fits for use with potted plants, houseplants, patio plants, hanging baskets, desk pots, hanging plants and outdoor gardens.
What is this made of? Is this product environmentally friendly?
This plant watering system is made of ABS plastic. A green and environmental product approved by the environmental protection department. High quality means that each water spike has a working life of more than a year, and our water spikes are more durable than other water spikes.
What makes this product different?
A few things set this apart. But some big reasons are you can control water flow, and it lasts longer with more water than other products on the market. Check this chart out to see how we compare!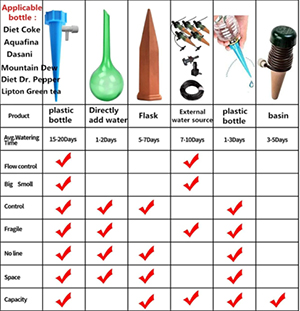 How can I control the water flow?
Use the product to control the water flow. Place the plastic part inside the soil and place a full bottle of water onto the plastic part. Use the regulating valve to control the amount of water that goes to the soil.
You can use the control system even when you are on vacation. Just put the right bottle and regulate the flow and you can leave your plants without worrying. It can release the right amount of water for up to twenty days and it is super easy to use.

What types of bottles can I use to hold water?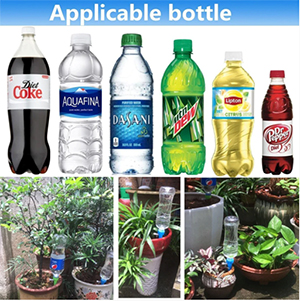 Specifications:
Color: Blue . Green
Capacity: 0.75L-2L
Size: 13.5x3.5 cm